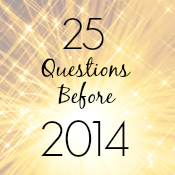 This week I am linking up with Chelsea from
Life is a Sunset
for her Three Part Series:
25 Questions to Ask Yourself Before 2014
. I have been following Chelsea for some time and really admire the person she is, her courage and positive outlook and the incredible things she has done with her life despite some very difficult obstacles. I just think she is an all around awesome human being!
I was trying to come up with a way to recap my year, and was struggling with how to put everything down on paper, and when I saw her
post last week
about asking yourself these end-of-year questions, it struck me as the perfect way weave the past into the future. There is some good stuff in these questions, which I will be answering in three parts. So today, I am going to work on Questions 1-10. I'll be back tomorrow and Wednesday with Parts Two and Three.
1. What am I most proud of this year?
Surviving, and thriving, through a major life change! This year I was laid off from a corporate job I had held for 9 years. Although the first few months were admittedly rough, and I went into panic mode, I eventually calmed down enough to do the inner work that was needed to make some positive decisions and actions towards building a different future for myself. I am so happy I didn't make any rash or rushed decisions in those first few months because I can't tell you how excited and centered I feel about the coming year now. One of those actions was starting this blog, so I'd say that's one of my proudest accomplishments as well :)
2. How can I become a better _________?
I'm going to fill in the blank here with the word "human" instead of focusing on a career/job title. I think becoming the best person you can be during your short time here on earth is the biggest task of all, bigger than any job. I have been working on myself all year in many ways - reading spiritual and self-help books, blogging out my thoughts, 'attempting' meditation, trying to see the positive in every day and situation, practicing gratitude, adding more variety to my workout routine, eating cleaner, and approaching life in a whole new way - but there is so much more I want to do, and this journey will surely take a lifetime!
3. Where am I feeling stuck?
If you would have asked me this question a year ago I would have said my job, but that is no longer the case. Actually, I am feeling quite free and open in most areas of my life lately, and am excited for all that is to come. That being said, there are certain limiting thoughts that stick around in my head, mostly concerning my romantic past/future, and I am trying to let them go.
4. Where do I need to allow myself grace?
I am becoming better with this. As a child I was definitely a perfectionist, and those tendencies had some destructive consequences, but lately, I am seeing that letting go of being perfect and just taking action, any action, is so much better. I have accomplished so much more by adopting this attitude when I realize that nothing, and no one, is perfect.
5. Am I passionate about my career?
Yes! I will be sharing with you soon my plans for 2014 in this area, but I am finally following my heart, and letting my natural talents lead the way. I believe there are certain things each person was 'born to do' and I'm so excited I finally decided to pursue those things, instead of what I thought I 'should' be doing.
6. What lessons have I learned?
Oh boy, I would need pages upon pages for this one! I've actually mentioned some of the lessons I've learned by answering some of the above questions, but I have learned
SO
much this year. It's wonderful what can happen when your world is turned upside down.
Here are a few of the most important lessons I've learned:
The most important voice to listen to is your own. Positivity breeds positivity; gratitude breeds abundance. Everything has a way of working out. There is a lesson in every situation.
7. What did my finances look like?
It was a bit scary this year, not knowing how I would make ends meet, but once again, lessons were learned. I was finally forced into making a budget and became much more aware of what I was spending. In addition, my attitude about money is beginning to change dramatically. Working in finance really led me to have a negative view of money, but I no longer feel that way. I now believe that if you are using your innate gifts for the good of other people, then money, which is just a form of energy, will flow to you to increase your positive influence on the world. I look forward to 2014 being an abundant year.
8. How did I spend my free time?
Working on myself and helping others, and spending time with friends and family.
9. How well did I take care of my mind, body and soul?
Probably the best I ever have! Even when I was unhappy with my job or other elements of my life in years past, I was pretty good at taking care of my body, but I tended to steer clear of taking care of my mind and soul. Those were harder for me to tend to. I didn't want to do the hard work of confronting what my inner voice was trying to tell me. It knew all along the sources of my discomfort but so often I would push that voice aside. Now I am tackling things head on and feeling so much more inner peace.
10. How have I been open minded?
I've come to see this year that life is not a linear path and cannot be viewed in black and white. Those are two huge changes in my previous thought processes. I've become open to surrendering the outcome and following my heart, and most of all living in the moment.
I invite you to link up with Chelsea or just answer some of these questions on your own. I think it's a nice way to do some introspection on the past year and center your focus for the coming year.